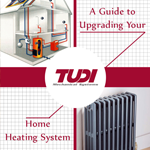 If you find that your energy bills skyrocket but your house still lacks the warmth and comfort you expect from your home heating system, it may be time to upgrade your furnace. With new energy-efficient technologies, a new furnace will go a long way in helping you cut cost and increasing comfort throughout your home.
Before diving headfirst into the market for a new furnace, there are some things you should know about your home heating system upgrade. Knowing what size of furnace you need, the latest energy-efficient technologies, and basic maintenance of your new furnace can help you stay warm and comfortable no matter what the outdoor elements bring.
Make sure you choose the best furnace available and turn to the home heating expert at Tudi Mechanical Systems. At Tudi, our team of residential heating technicians can help you find an efficient solution to your home heating needs, saving you up to 30% on your overall utility costs. Stay comfortable and cozy year round, call the residential heating and furnace specialists at Tudi today!