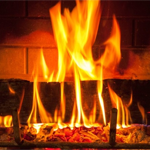 As we prepare for the final weeks of the winter season, many homeowners are looking for ways to cut costs and save a little extra on their home heating and energy bills. If winter has proved to be harsh on your wallet this year, this is hope in sight.
Keeping your home comfortable all year long shouldn't be a financial burden. Fortunately for homeowners, there are many cost-effective strategies and actions you can take to help you warm your home and cut down your energy usage. Check out our video for some of the most cost-effective ways you can cut your home's heating bill this year.
Keeping your home comfortable shouldn't be a hassle. If you're looking for a more effective way to add year round comfort to your home look no further than Tudi's Home Comfort Plan. Bringing together the best in heating, cooling, plumbing and electric, Tudi's Home Comfort Plan saves you time and money while making sure all the mechanical systems throughout your home are in tip-top shape. Call today to learn more about our services and get started on your home towards a cozier and more comfortable home.