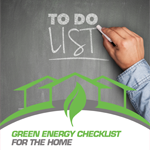 Going 'green' is easily one of the most popular trends of the time for modern homeowners. Living in a way that contributes towards maintaining the Earth's natural balance ensures that our planet, environment and natural resources will be here for generations to come.
Environmentally friendly reasons aside, there are a lot of reasons to invest in more energy efficient technologies all throughout the home. Follow along as we explore some of the reasons why everyone can't stop talking about going green with their home's mechanical systems.
Cutting Costs on Household Utility Bills
One of the biggest benefits of going green is without a doubt the lower monthly costs you'll be paying on all of your household utility bills. While some of the latest energy-efficient technologies do come at a hefty up-front cost, the long-term savings homeowners can collect from these updated mechanical systems far outweigh the initial price tag of upgrading your home.
Adding Value to the Home
Upgrading your household's plumbing, heating, air conditioning and electrical units to a more energy efficient solution can provide a significant boost to your home's value. With much of society abuzz about eco-friendly homes and sustainable living solutions, adding energy-efficient appliances all throughout your home is a great way to add value and extra appeal before putting your home on the market.
You Can Even Do It Yourself
Even if you aren't ready to call in a professional technician to help you upgrade all the mechanical systems in your home, there are several simple energy savings projects you can do in almost every room of your house to cut back on your utility costs.
Things as simple as closing your blinds during the daytime can help trap cold air in the home, or swapping out your old incandescent light bulbs with energy-saving LED bulbs can quickly multiply your energy savings.
Keeping Up with Maintenance
One of the best things you can do to improve your home's overall efficiency and keep your utility costs to a minimum is to stay on top of all your home's mechanical system maintenance needs. Dirt and neglect are two of the top causes of system inefficiency, so be sure to perform routine maintenance checks throughout your home to keep your systems performing at their peak efficiency.
Maintaining your home's comfort all year round is easier than ever when you enroll in the Home Comfort Plan from Tudi Mechanical Systems. Our Home Comfort Plan is designed to keep your home in working order all year round, providing your home's plumbing, electrical and HVAC systems with preventative maintenance innovation to eliminate problems before they have the chance to start. Contact Tudi today to receive a free service estimate for your home, and let us help you cut costs and keep your home in perfect working order with energy efficient systems and solutions for every room of the house.