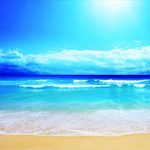 Summer is almost here, which means everyone will soon be looking for ways to keep their homes cool. Obviously, the best way to cool off a warm home is to turn up the home air conditioning system, but that isn't a good idea if you don't want to pay high energy bills or shorten your AC's lifespan.
There are more efficient ways of keeping your home cool this summer, and most are simpler than you might imagine. Here are just a few to keep in mind.
Turn On Your Fans
A fan won't make a room cooler, but it can make it feel that way. Fans help circulate air throughout a space, and that can make a room feel much more comfortable.
Keep Your Windows Closed During the Day
You may think opening your windows will cool off your home, but that can also make things worse on a particularly hot day. Keep your windows shut during the day to keep the cool air inside. Open your windows on cooler days or at night to create some ventilation in your home.
Add Some Shade
Plant some trees and shrubs near your east and west-facing windows. They can provide some shade and keep your home feeling cool. If you can't plant any shrubs or trees, you can always put up curtains or blinds to keep out the sun.
Set Your Thermostat
Your thermostat should be set at 70 to 75 degrees during the day when you're home and at 80 degrees at night or when nobody is home. This makes it easier to maintain a comfortable temperature without putting too much strain on your home air conditioning system. Do not turn off your air conditioning when you leave the home.
Get a Tune-Up
A home air conditioning system should undergo maintenance at least once a year from a home air conditioning service. A good Pittsburgh air conditioning repair service can ensure that your air conditioner is working smoothly and that nothing needs to be repaired or replaced. It's best to schedule this maintenance in the early spring so that your AC is ready to go when it is needed the most.
Avoid Turning On the Oven
Few things can cause a home to heat up faster than baking something in the oven. Sadly, this may be unavoidable in certain situations, but there are ways to keep your oven from having too much of an effect on your home's temperature. If you must bake something, make sure you do so after dark or on cooler days. You can open a window in these cases to keep your home at a comfortable temperature. Otherwise, try to stick to meals and recipes that don't rely on the oven. You can grill outdoors, make soup in a slow cooker or make meals on your stove top. Anything that doesn't require you to have your oven on for an hour or longer should be fine.
Check Your Air Filter
You should be checking your air conditioner's filter at least once a month and replacing it as needed. This not only improves the air quality of your home and the efficiency of your air conditioner, but it will improve the air circulation throughout your home.
While we all certainly welcome the hot summer sun, sometimes it is nice to step indoors for some cooling relief. Make sure your home stays cool and comfortable all season long and get in touch with the residential air conditioning service technicians from Tudi. Utilizing the latest technology and equipping your home with state-of-the-art residential cooling systems, Tudi's team of expert A/C technicians make it more affordable than ever to keep your home cool all summer long. Don't let the summer sun get you heated this year. Contact the professional Pittsburgh HVAC technicians at Tudi today!