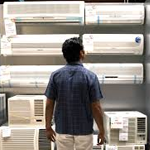 So, your air conditioner unit is not working like it used to, despite all efforts to rehabilitate it. Or it's simply very, very old. Summer is just around the corner, complete with the hottest months of the year. The ideal decision would be to get a new A/C. However, this is not a purchase to take lightly. The air conditioner is one of the most important components of a house. So, you must go into purchasing one as a person that is sufficiently informed about what to look for in residential cooling systems. Here are five of the most important tips to consider:
Make Sure Your Air Conditioning Unit is the Right Size
You do not need the biggest A/C unit out there—just something that can efficiently keep the home cool. If the unit is too small, for instance, it would have to work harder in cooling the house, and that can translate to a higher energy bill than is necessary. And if the air conditioner is too big, it would have a shortened on-and-off cycle, which reduces its effectiveness to get rid of humidity and consequently contributes to the malfunction of the unit itself. Take note of the total square footage of your house to aid you in getting a unit with the right size.
Check the Energy Efficiency Ratio
The efficiency of an A/C unit is determined by its Seasonal Energy Efficiency Ratio, or SEER. The SEER rating is the measure of the air conditioner's seasonal or annual efficiency. This efficiency is determined by the unit's EER rating, which is the calculation of its cooling capacity. So, the higher the SEER rating, the less likely the chance that you will get a hefty electricity bill every month. You can go to the ENERGY STAR website to estimate your savings and payback by getting an A/C with a high SEER rating. Although they tend to be more expensive, the long-term benefits are absolutely worth it.
Buy Your Air Conditioner During the Non-Peak Season—or Buy Now!
If you wait until the summer's peak, you might not get the best deal or even the ideal unit for your home. Retailers typically offer reasonable off-peak season pricing, so the smart thing to do is get your unit well before summer hits.
Look Out for Any Special Offers or Efficiency Rebates
HVAC companies often provide great deals. And you can find them by going to their respective websites—and, in some cases, order directly from them to take advantage of such opportunities.
Consult with your Local Pittsburgh HVAC Professional
Don't hire just anyone well-versed in all things A/C. Go with a company that has been around for at least 15 years. Also, check for Better Business Bureau ratings, reviews and awards from reputable publications that cover the HVAC or home improvement industries. Although you may feel confident in going the DIY route, hiring a contractor with the right amount of training and experience can be invaluable—and ultimately turn out to be far more helpful.
Fully-trained in the latest energy efficient and cost-saving cooling technologies available, Tudi's team of Pittsburgh HVAC professionals can help you find the right air conditioning system for your needs. Contact us today for a free estimate and let our residential cooling system experts help you find the perfect cooling solution for you.